This is so handy and easy to use, I created another property just so I could track my personal expenses each month!
— T. Barber - Whispering Pines
Expense Tracking
Make timely payments on bills
Never miss a payment due date again. Colorful reminders provide a visual display so that you can see what amounts are coming due soon, and the ability to print checks from the software makes it easy to pay bills on time.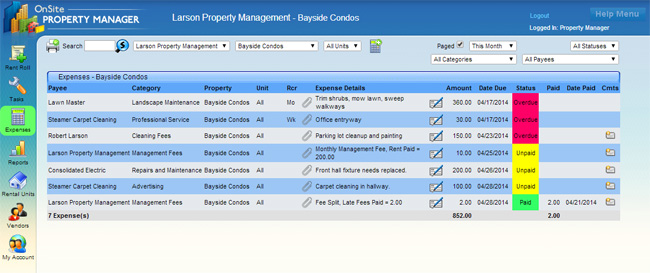 Our property manager software makes it easy to enter your expenses, upload any invoices or receipts, enter payment information, and print checks. Your expense and owner reports will be auto-populated from there.
Expenses are automatically color coded based upon status as the month progresses so you can see at a glance what is paid, upcoming, or late. Expenses for property management fees can be automatically generated and added to the list each month!
There is no need for expensive property management accounting software, our system will allow you to focus on growing your business!
Learn about our Move-In/Move-Out ›